THE COOLEST ILLUSTRATED GUIDE FOR CODEMOTION SPEAKERS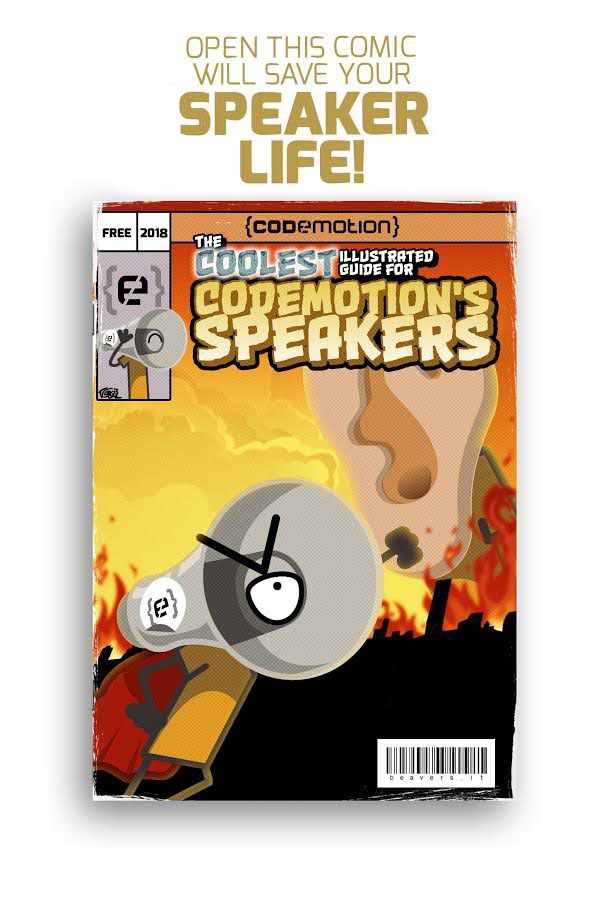 Too busy for a fancy comic?
Please, find below the text version of the speakers' guidelines!
GREAT NEWS!
Your proposal for Codemotion Amsterdam 2018 has been accepted! Congratulations!
AND NOW?
Here some advice and suggestions to fully enjoy this experience!
REMEMBER TO REGISTER
Even though you are a speaker you need to register for check-in.
We will send you 1 FREE TICKET you have to use to register as speaker.
Be sure to check your spam folder too.
SUGGESTIONS
Are you looking for a hotel in Amsterdam?
Have a look at the info section on Codemotion Amsterdam 2018 website to choose the best option for you.
We recommend Hotel ibis Amsterdam Centre , but we also have other accommodation partners.
PREPARE YOUR BAG
Don't forget:
– your own laptop
– a presenter
– a plug adaptor
– a hardwired adaptor (if your laptop requires it)
– an HDMI adaptor (if your laptop doesn't support HDMI output)
TIPS FOR YOUR TALK
– Prepare your talk well in order to manage your time in the best possible way
– Codemotion's attendees are quite demanding… so prepare your talk well in advance
– The language of your talk should be the one you submitted… do not change it!
– During your talk, remember to show some lines of code and some demos to thrill the attendees. Make sure everything, especially the code, is readable even from the last row
WHAT WILL YOU FIND AT CODEMOTION
Please use our cover, add our logo in your slides and remember to include the Creative Commons Licence otherwise we can't publish your presentation.
– You will find an assistant in every room to help you with anything you need.
– Your room is provided with:
HDMI projector and screen
Microphone
Wi-Fi
– Need to do last-minute preparation on your talk or relax? A speakers' area is available just for you!
TALK
– Avoid being late and arrive to your session 10 minutes before your talk begins
– Remember to leave the last 5 minutes of your session for any questions from the audience
– At the end of your talk, the room assistants will collect your slides so don't forget to leave them. They will be published on Codemotion's Slideshare after the event.
– Ask the audience to visit the Codemotion App to leave feedback about  your talk
SPEAKERS' DINNER
On Tuesday, May 8 the Codemotion Team will be hosting a special Speakers' Dinner at Mediamatic (Mediamatic, Dijkspark 6a, 1019 BS Amsterdam)
Hope you will join us!
Stay tuned for more details.